Certified Professional Sales Consultant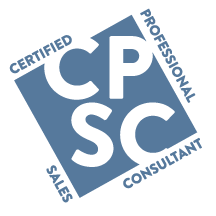 New Sales Training for Reps is Here!
During this training, you'll learn how to become your customer's business partner and strengthen your key account relationships to increase sales. In today's highly competitive and ever-changing marketplace, buyers expect more from you – more information, more expertise and more professionalism. They demand value not only in your products and services, but in your relationship with them as well.
CPSC Course Content Highlights
Sales DNA - Framework for Success in Sales
Sales Planning Reinvented
Prospecting & Lead Generation
Virtual Class Registration is Open!

Sign up for your desired date & location.

Attend, learn the skills & tools to become a better sales person.

Develop & apply the tools to grow your territory sales.
Association Member:
$1,995.00  $1,745.00 for virtual
Non-association Member:
$2,295.00  $2,045.00 for virtual
CPSC Virtual Program Options:
New Dates Coming for Later in 2021
Offerings will include virtual and in-person
Request updates via the button below:
What to Expect After You Enroll
An email to confirm your registration
Details to plan for your week of training
Course materials will be shipped to you 
Pre-work will be sent a week prior to class
Need more information about our classes?
Click on the button below and let us know how we can help.